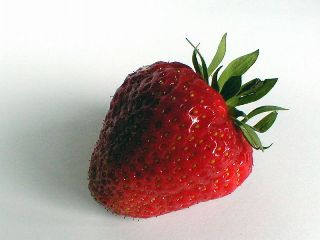 No, fellow biogeeks, I'm not talking about luciferase assays. I am talking about those
human reporters
who write news stories.
Yes, that was a lame joke. Ha.
On Tuesday, the
Straits Times
(Singapore's
grand dame
newspaper) invited people who contributed letters to its forum for a celebration bash at its headquarters. I wrote a letter to the Straits Times a few months ago about science, technology and creativity, so I was among them chirpy guests.
There were about 60 of us, and boy did they treat us fine!
We get to ask the editors direct questions about the Straits Times. We get to hear a song performance. We get a guided tour of the newsroom. And we get free dinner.
With
chocolate eclairs.
What did I do to deserve this? *tears welling up*
Anyway I should comment on the title of this post.
This is probably the strangest article in the Fresh Brainz collection so far, because I am literally
reporting on the reporters.
To make it even more bizarre, on the Wednesday edition of the Straits Times, there was an article describing this forum gathering itself.
So the
reporters were reporting on how I was reporting on the reporters.
My head is about to explode.
Quick, distract me with some photos!
Ah... better. This is Mr. Kong Soon Wah, the forum editor. He is a nice uncle. If he didn't choose to publish my letter, then I wouldn't be invited. So he is the reason why I got free food.
Of course you may ask - "But how could he not choose your
awesome
letter? That glorious exemplar of cogent excellence?"
OK, you'd never ask that.
Look! A
STAR BLOGGER!

Yes my friends, that's
Nick Fang
himself.
He is taller and looks more handsome than the photo at
Stomp Starblog
. He was the MC for the event.
Unfortunately I might have pissed him off when I mentioned
Xiaxue's
name during the Q&A session.
Hence that reluctant smile.
I forgot that not everyone shares my love of that bawdy princess blogger!
*snicker*
We were led on a guided tour of the Straits Times newsroom. During the tour I discovered these
AMAZING FACTOIDS!
I know you like trivia.
1.
The Straits Times costs
$1.20
to make. Advertising brings the price down to 80 cents (70 cents for subscribers).
2.
Sports reporters only have about
5 minutes
after an event to finish a report. To get around this, they dictate their reports over the phone while the event unfolds.
3.
The printing press produces
1 million copies
of newspapers in
two hours
. The printing machine costs about
S$250 million
a piece.
4.
Reporters are issued with laptop computers because they are constantly on the move. Subeditors get desktops.
5.
The newsroom has
two hot babes
wearing little black dresses while working at 10pm. Why? Why?
Not that I'm complaining.
6.
The Straits Times has one of the most advanced resource libraries in the world. Latest photos from large news agencies like Reuters are automatically uploaded into its database system.
7.
The Straits Times is
161 years old.
This is the first issue on Tuesday, 15 July 1845.
And how can I let up a chance to take yet another panorama? If you look carefully, you will find that every desk is cluttered with stuff.
It looks so... busy.
*start messing up my own desk*