We do the hard work of zapping the globe for the slickest science articles - so you don't have to.
Swarm behavior
(Bayblab - Canada)
Simple interactions can result in complex emergent behaviours...
The obvious and not-so-obvious in psychology
(Mind Hacks - USA)
Common sense can be wrong - some notable examples of counter-intuitive discoveries...

Art vs Science
(Rat in the Lab - Singapore)
Just make it up as you go along...
A toothbrush that can redirect water from the faucet to your lips for easy rinsing
(Sour Grapes - USA)
You always needed one - just never realized it...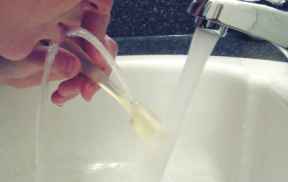 Dinosaurs as Art: Royal Tyrrell Museum
(The Flying Trilobite - Canada)
Illuminating the unknown, one spotlight at a time...